Scheduling Manager Service Business Software
Complete Management Tool for Your Service Business
Scheduling Manager software for service businesses provides an integrated suite of scheduling, business management, and accounting tools to help you effectively streamline your office tasks, get rid of paperwork, eliminate errors, improve business communications and increase your profits.
Some Service Business Industries Served by Thoughtful Systems
Boat Washing, Detailing and Cleaning Software

Computer Maintenance Company Software

Electrical Maintenance Software

Event Planning Software

Furnace Maintenance Software

Garage Door Maintenance Software

Parks and Recreation Software

Parks Maintenance Software

Party and DJ Service Software

Pet Walking Business Software

Power Washing Service Software

Pressure Washing Business Software

Radon Gas Contractor Software

Snow Removal Service Software

Telephone Installation Software

Van Removals Software
All Industries Using Scheduling Manager
Scheduling Manager Helps You Run Your Business Your Way!
Choose From a Variety of Versions and Modules to Suite Your Business
Scheduling Manager Gemini – Desktop Version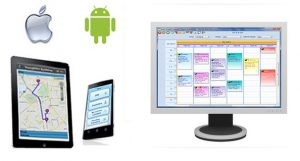 – Provides the security and robust capability of locally installed software
– Can be installed on an office network
– Does not require Internet connection
Learn About Scheduling Manager Gemini
Scheduling Manager Web Express – Online version
– Convenient accessibility and flexibility of always online system with reliable and secure cloud storage
– Access it from anywhere and have all your business data at your fingertips when and where you need it
– Data is always synced up and can provide easy collaboration between your users if necessary, as all data are centralized
Explore Scheduling Manager Web Express
Go Paperless with SM-Mobile App
Our SM Mobile App works in conjunction with Scheduling Manager Gemini or Web Express and is available on Android and Apple mobile devices. With SM-Mobile App your employess in the field have access to all the tools they need and your office staff is always up-to-date. The employees can
 • View Scheduled Job Appointments
• Create Estimates in the Field
• Produce invoices at the job site and e-mail them to clients
• Take photos of the job site and transmit them back to the home office
• Upload and Edite Custom PDF Forms
• Accept Payments – Including Credit Cards
• And much more!
We are completely reliant on the software for all our customer mangement, and billing, and I am always excited to hear about the new features you are adding to the software. Some of those have helped tremendously – one feature, the credit card processing feature, has saved me and my stafff so much time, that it alone has been worth the cost of the software. It's a pleasure to work with a software company that is similarly dedicated to providing high-quality, dedicated service.

Oren Ami, York Carpet Care, Englewood Cliffs, New Jersey
How Scheduling Manager  Software Can Help Your Service Business Succeed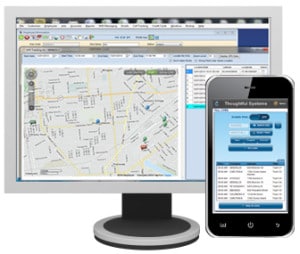 ✔ Easy & Flexible Scheduling
✔ Effective Customer Relations Management
✔ Integrated Marketing & Sales
✔ Accurate Employee Management & Team Assignments
✔ Save Time and Money with Mapping & Route Optimization
✔ Automated Invoicing, Easy Estimates, Accounts Receivables and Payroll
✔ Interface with QuickBooks, Sage, MYOB and other popular accounting packages
We have recently upgrade to Scheduling Manager, which proved to be a great asset for our company. My business has grown tremendously since then. We are now using your software at both our Virginia and Maryland branches…We never could have grown as fast as we have or managed this kind of volume without your program.

Sean Rashid, Maid to Please, Gaithersburg, Maryland