Janitorial Services Business Software
Thoughtful Systems has been perfecting Scheduling Manager software for Janitorial Services for over 25 years, growing and improving our services together with our janitorial business customers and sharing in their industry expertise. 
The Janitorial Services industry is an enormously profitable  market projected to grow to over $60 billion by 2020. The primary customers for the Janitorial Services businesses are commercial, industrial and government organizations that contract with outside janitorial operators to clean their facilities. As economic conditions continue to improve since the Great Recession of 2008-09, the Janitorial Services industry is experiencing increase in demand and rising profits from corporate clients in all areas of the country. Moreover, educational and medical institutions particularly offer great profit and growth opportunities for janitorial businesses, as they are continuing a trend of outsourcing more of their cleaning needs every year.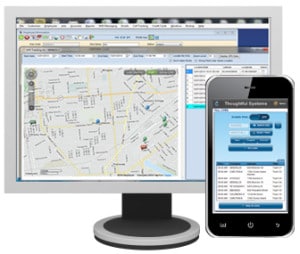 While a janitorial services company can be an extremely profitable business, janitorial cleaning businesses are also facing intense price-based competition and increase in employee compensation costs, which affect profit margins and make the economic prospects more risky. Thus, the profitability of janitorial services businesses greatly depends on good marketing and customer retention strategies through providing great customer service.
Scheduling Manager software for Janitorial businesses provides a fully integrated and automated business management software package to take care of all your marketing, customer service, scheduling, accounting, and employee management needs. As a janitorial business owner, you can join us for the journey and benefit from the best in computer technology to make your business more competitive and profitable!
Benefit From These Top Features in Scheduling Manager software for Janitorial Businesses
Effective Marketing & Sales Tools
Take advantage of powerful marketing features for janitorial businesses integrated into our Scheduling Manager software. Use the Integrated Email Module to create and send out successful marketing campaigns, automate your bulk emailings to regularly advertise your services and special offers, and respond to service inquiries faster than the competition with our Online Inquiry Form.
Easy Team Information Management
Efficient employee management is greatly important to the success of any janitorial services business and can greatly reduce the operational costs, increasing your profit margin. With Scheduling Manager, you can group your employees together into teams and change these teams on a daily basis or for individual jobs, make team management and scheduling tasks much easier.
 Automated Payroll
Scheduling Manager makes managing your payroll a breeze. Payroll information is automatically recorded when you complete jobs and all you need to do at the end of your pay period is run your payroll report! Scheduling Manager handles six rates of hourly pay, overtime pay, pay-per-job, and commission pay. And it lso handles bonus pay, deductions, tips, fixed pay, and combinations of all these pay types!  You can automatically import timekeeping data from our SM-Mobile App, as well as export Payroll data to any specialized payroll programs, including ADP, Paychex, QuickBooks and more.
From a Happy Janitorial Business Customer

"We want to thank you for your excellent software updates that we recently received. This package merged smoothly with our previous version of the Cleaning Manager that we had used successfully for the past 12 years. We are very pleased to be associated with your company, and we look forward to future innovations."

Howell P. Schechter, Maintenance Service Industries, Yorktown Heights, New York
Benefits of Using Our Software to Manage Your Janitorial Services Business
Enter information once only. No need for multiple software programs, which create inefficiencies, and can lead to errors. When you complete a job, an invoice is created, time spent by each maid on the job is recorded, payroll is calculated, and the amount paid by the customer is recorded.
Increased efficiencies for your organization lets you focus on marketing, gaining new customers, and lead generation.
Integrated E-mail marketing tools help you get new clients, and market new services to existing clients.
Specially designed for janitorial businesses. Used by thousands of janitorial businesses in more than 15 countries.
From Another Satisfied Janitorial Business Customer
"We have been using the software now for more than 9 years and I am really thrilled that the software and service just keeps getting better and better…I believe that it will continue to be a benefit to you as well as to ourselves the more people that use your software. We have been pleasantly surprised on several occasions when you've introduced new features that other users have suggested, and that we can benefit from."

Mark Bauer, Citi Clean, State College, Pennsylvania